This time we made crash bumpers for the Yamaha FZ6
The FZ6 is a type with an aluminum frame with complicated curvature.
It was a machine that did not have a good attachment point and support for the SSB crash bar support frame.
However, in the end we were able to come through with a super lightweight crash bar.
The fall test of this machine was a success.
The bumper worked firmly, protecting the tank, the handle and the speedometer from the road
Even when forcibly pulled, it did not roll any further.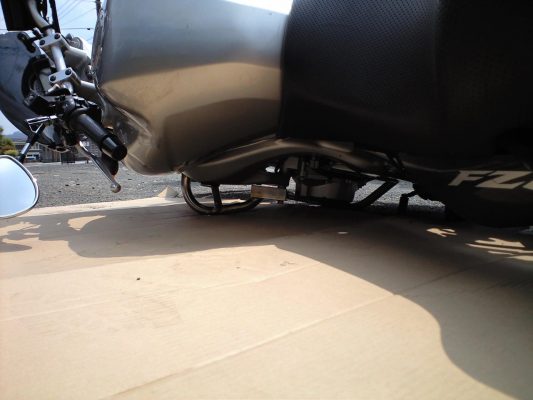 Our design is an accumulation of years of Japanese Moto Gymkhana based protection technology.
This therefore gives maximum protection in both low-speed tumbles or in high-speed slide situations on and off the competition course.
For example, our kit provides protection of critical components such as fuel tank, fairing, handle bar and other "pricey to repair" motorcycle components.
While no motorcycle protection kit can completely guarantee freedom from crash damage, it is important to note that this kit will most effectively either minimize or eliminate the costly effects of an accident.
For instance, in most cases our kit should prevent you from being left stranded roadside with engine case damage and leaking oil.
Made of stainless steel. Therefore these bars are light weight and in addition will not rust when scratched.
Sturdy frame connection taking advantage of existing anchor points
Easy mounting without drilling or welding (Some models may require cutting of fairing.)
Material: stainless steel tubing with a diameter of Main pipe 25mm Sub pipe 19mm
Included:
SSB crash-bar kit with 2 crash bars
Mounting material
Mounting instructions
SSB Factory stickers
Not included:

Prices are for products as seen in picture.
Motorcycle not included.