2016 is the third overall in the year, and in 2015 Dunlop JAPAN won the overall victory
I decided to let go of the MT-07 gymkana special.
Now I'm crazy about running on GSXS 1000, so I have not been riding MT-07 for a while and the machines are sorry if I do not move.
It was a conclusion to say that it would be better if there was someone saying that someone would ride.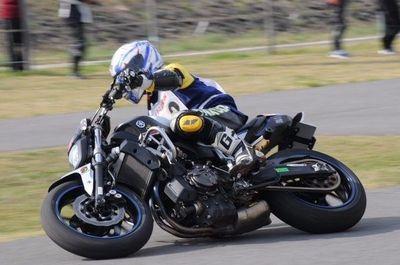 Contents Front and rear Orleans Suspension "Sakuta Special"
Advantage Wheel F3.5-17 R5.0-17
Gail speed brake master cylinder
Gail speed clutch holder kit
Star slipper clutch
Front and rear Chromoly axle shaft
Inner pressure control valve "NAG"
Akrapovic full exhaust exhaust muffler
LighTech back step
Modified Handle
SSB Bumper
Handle Rigid Kit
Idle Adjuster
Handle Stopper Kit
Rear Slider
Carbon Frame Cover
ECU rewrite

and much more…
I also have the stock parts. I also have the stock wheel rims.
I'm thinking the sale price at around 1.5 million Japanese Yen in total.
Please contact me if you would be interested.
Sakuchan@mwd.biglobe.ne.jp
Please contact me.
http://zrx-drz.at.webry.info/201706/article_3.html