The next Sunday Dunlop practice meeting will be held in Rainbow Okegawa on 12/19.
As for the practice session this time, the slalom course of the layout which can run as pleasant as before
Dunlop Competition We are waiting for your participation by arranging the time attack course just like the actual number.
This time the course diagram is released ~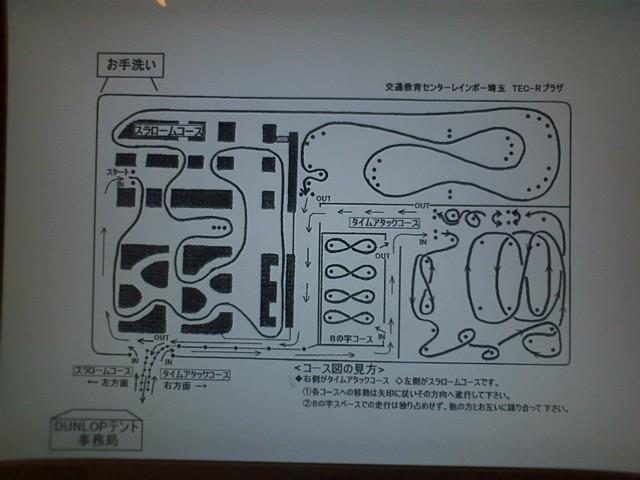 Mini lessons by top riders staff will be held around noon!
I think that the practice sessions that the top riders will complete lessons will be unique to the Dunlop training practice.
I am waiting for everyone's participation from all the staff.
This Dunlop practice meeting, we also accept reception on the day, but if possible we ask by prior application.
Advance registration can be done by phone or e-mail, and the participation fee will be lower.
I think that it is very profitable.
Let's meet in Okugawa on that day!
◆ How to participate
? Advance application +? Application for the day
In advance
Please apply by phone or e-mail to the secretariat from one month before the opening date until the morning of the previous day (12 o'clock).
[Application inquiries]
Honda Motor Co., Ltd. · Shinjuku R & E Division
3-15-14, Ueda, Toda-shi, Saitama Prefecture 335-0022
?: 048-420-2812 Mail: randeiwanabe@yahoo.co.jp
Information on how to participate <E-mail use> (PDF)
* Prior application acceptance time From 9:00 am to 6:00 pm * Confirmation contents? For telephone: Name only, telephone number only? For e-mail: <Subject> Application date <Body> Name / telephone number
In the case of participation cancellation, please contact by the morning of the previous day (12 o'clock).
In the case of cancellation on the day or if you do not wish to participate without permission, we may not be able to see you off next time. As you can acknowledge it, thank you.
That day
Please apply for participation at the venue on the day.
please note:
We will accept application for participation on the day, but the participation fee will be different.
When the number of participants becomes large, we may refuse participation.
Application period on the day From 8:30 am to 2:00 pm
◆ Holding time
9:00 am to 3:30 pm
◆ Reception hours
We accept from 8:30 AM to 2:00 PM at any time
◆ Registration fee
? ¥ 4,000 (advance application)? ¥ 5,000 (application on the day)
http://zrx-drz.at.webry.info/201012/article_4.html