Various tests to fit GSXR engine to Gymkhana
Although it is repeated, the last muffler for 600
Total torque down, point going up also went up
It was a substitute that can not be used for gymkhana very much …

According to the investigation there (according to the manufacturer)
Which part is the muffler is thin, whichever is longer
It seems to be a muffler for low speed!
Given the shape of cams and the timing of overlap
Also in the part where the shape and thickness of normal are also referred to as power characteristics
Is not it the best? It was decided to say.
So we decided to make changes by extension of the method we have taken.
Until now we welded a pipe with an inner diameter of 33 Φ to the part that leads to the silencer as shown in the picture
I was doing what I say to make it thinner.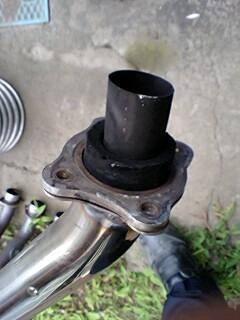 Nevertheless, to a torque of extremely low speed (around 1500 to 3000 rpm)
There was dissatisfaction.
So I decided to test the 28 Φ pipe in 33 Φ!
This will torque up from very low speed to medium speed! High rotation
Power down! intend to do something.
So I brought a short final to the engine which kept rushing up
We will also test combinations!
Well will it be a good feeling?
It is good to hit 10 tests and hit one ~ http://zrx-drz.at.webry.info/200706/article_5.html