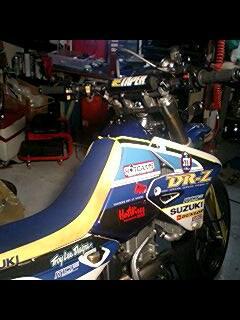 One month has passed since I decided to take out at DRZ! Have accumulated various tests and exercises
For the time being, direction has come out.
In the case of me, saying that you can not do good driving in the direction to lower the car height.
And the softest suspension "spring" seems better as possible! To say.
Because it is a priority to the accelerator than the clutch, saying that the final does not go to the final.
But sometimes big pitching sometimes does not raise the pace of gymkana
Also fact. .
I am developing my own machine with this content conscious.
I tried to make a big change though it is small for this coat this time!
Now it's naughty, but if this succeeds it is likely to change greatly?
Now come out with a bad guy? Do you get excited? I will try answering with MJ cup.
One month to Dunlop!
Where can we dig into the total?
How far can you make your own machine?
And how far can you get into the top by the second half of the season?
Very pleasant days of challenge continue.

http://zrx-drz.at.webry.info/200801/article_1.html