I purchased a funny bike a little.
It is Husqvarna SMR 250! Machine released only in Japan.
Ultra lightweight X light engine is installed, it is an ultralight machine saying 116 kg in equipment weight.
I got a technique that can also ride on Motard, but it is lonely that there is no motard machine ~
I did not have an automobile inspection, so I bought it by saying that I would like to ride on a super lightweight machine I have never been on.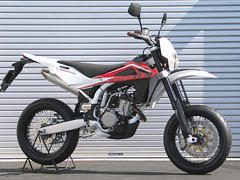 The purpose of use is not gymkaun only now right now.
On the circuit at the circuit, and running the slalom of Gymkhana.
The goal is to run thoroughly while shifting gears.
So, there is no reason to finish the machine closer to Jimkana, such as Short Short for Gymkhana.
I want to run in nearly normal condition.
The area where speed can ride can run comfortably! I do not want to remove it.
I think that we will go and run around here on two stacks
Thank you for the way of Motard.
By the way, recently my own running has added technology for Motard riding
I am feeling fine after I get on this machine ~

http://zrx-drz.at.webry.info/201105/article_8.html