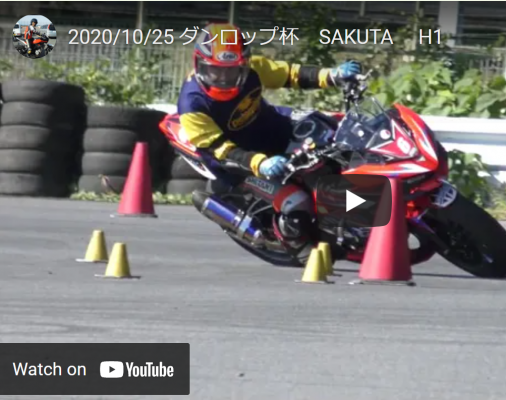 Thanks to the efforts of the staff, the 2020 Dunlop Cup Moto Gymkhana tournament, which had been canceled due to the influence of Corona, was able to be held safely on October 25, the final round.
It's been about a year since I won the final round of the 2019 JAGE Cup, and the Dunlop Cup is the main tournament, so I was able to feel a sense of tension.
Since the tournament was canceled due to the influence of Corona, I was able to take on various challenges in setting up and riding the machine, and I was able to realize that the potential was further increased, so anyway, I overcame the tension and ran all the time. It is the start of H1 with the goal of doing.
I think I was able to run myself carefully as a whole.
It's running softly and I wonder if the machine is running reasonably. ..
The goal time was 1 minute 41 seconds 250 and I was able to finish the first heat at the top.
As the second heat time was pushed, the sun was tilted considerably, and I feel that the road surface temperature has also dropped considerably.
However, the A-class heroes will always update the time. .. Concentrate and concentrate and do what you can do now!
There is enough grip, so I will attack. Carefully feel the grip and pay close attention to the shaded areas.
Don't wake up the machine! Open the accelerator and go. .. .. Do not panic the rotation carefully and surely!
The goal time is 1 minute 41 seconds 078!
I was able to slightly exceed the time of the first heat.
And how was Ikeda's time? I'm.
Looking at the reaction of the audience, it seems that my time is faster. ..
The joy of high-fiving with friends is exceptional. ..
By saying that, I was able to win the first and final races of 2020.
It was a very tense battle because of the efforts I have accumulated, but I would like to praise myself for being able to overcome that tension and run.
I'm only planning to participate in the final round of the JAGE Cup and Ehime Dunlop this year, but I'll do my best so that I can run myself.
After all the tournament is fun ~~~
I hope it will be held as usual next season.
https://zrx-drz.at.webry.info/202010/article_3.html