I went to the Dunlop Cup Round 3 held in sunny weather.
This time, I was running with ZRX1200R + new tires, front and rear of Q5.
In fact, it was a ZRX1200 that I had never ridden in Q4, so I had no idea about the air pressure or the characteristics of the tires at all, so I went for the challenge of a real challenge. .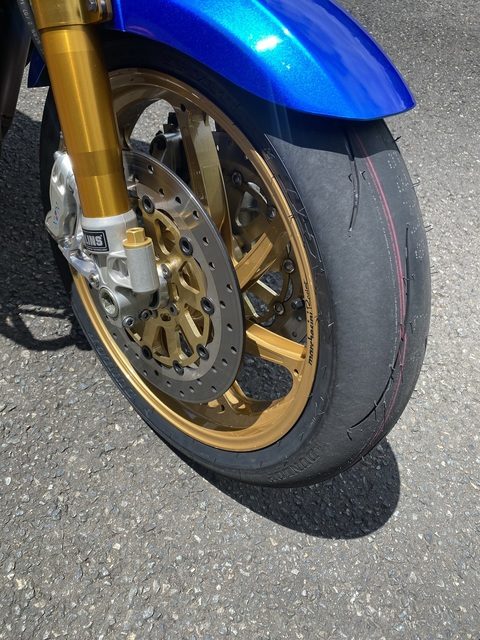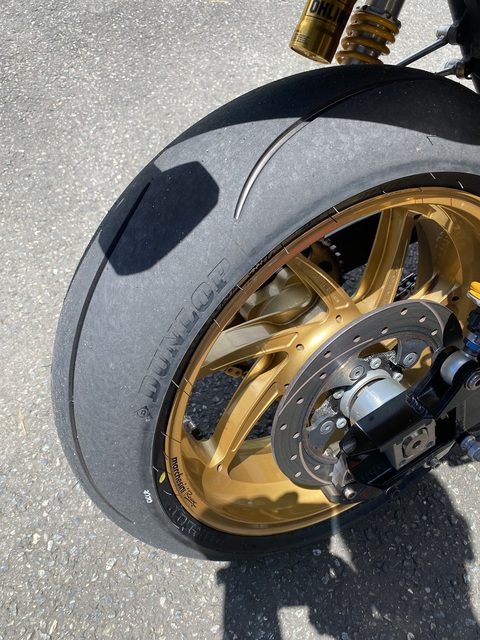 The course this time was a detailed course for Dunlop, and it was a course that made heavy cars cry.
I felt that the course would put a heavy burden on the front tires for heavy vehicles.
I felt it from the 1st heat warm-up, but the rear seems to be low. . . Unyielding. . . Crazy. .
The rear is low when banking and it doesn't bend at all.
It was a situation where I was likely to fall if I forced myself, but somehow I managed to reach the goal without falling
The time was 1 minute 28 seconds 6. I couldn't attack at all, and if I scored it, I felt like I was able to do 30 points. .
30 points is not fun to run. . .
I don't want it to be fun, so I gathered various information until the second heat, and it turned out that the rider using the Q5 was running at a warm temperature of 290kpa.
I was 220 kpa, so I wondered if this was the cause. . ?
I can't test it, so I adjusted it to the same 290kpa as everyone else, and the riders do the rest. .
I want to run more fun in the 2nd heat like that~~

Compared to the 1st heat, it still felt better, but the balance wasn't good. There are almost no top riders wearing Q5 on the front, so I don't know the data at all. .
I deceived and deceived and ran, but if I scored it, would it be 60 points? .
It was a bit disappointing to say that it was 7th in the SB ranking with 1 minute 27.6 seconds shortened by 1 second.
Riding the ZRX1200 is very attractive and fun, but I would like to run in a situation where I can run with all my might.
With such a score this time, was Road Smart 4 more fulfilling? What a thought.
For the next Dunlop, I would like to show a more fulfilling driving experience with the ZRX, so I would like to enjoy the gymkhana.
That's right, on July 31st, the Chubu Former Gymkhana Tournament will be held. . Of course, I will run with the ZRX, but since there are no tire restrictions, I would like to attach the Diablo and run as hard as I can.
https://zrx-drz.at.webry.info/202207/article_13.html