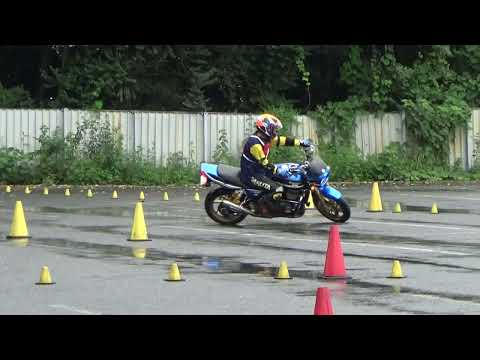 I participated in the 4th round of the Dunlop Cup held while the typhoon was approaching.
When we arrived in the morning, the track surface was dry, but due to the forecast of rain, we decided not to use this course, which has extremely poor wet grip. rice field.
I was a little worried that the road surface would be rough and that there would be oil stains on the track as I usually do maintenance work, but after finishing it, I thought I had made the right decision. Thank you to all the staff for your hard work.
1st heat It was completely wet, and I didn't know the grip level because it was my first time on the road surface, so I wondered how much I should slip. I tried running while trying.
Was the goal time SB 5th at 1 minute 20 seconds 954?

The rain got even stronger in the second heat, but unexpectedly, I had better grip at times like this. .
The slalom right after the start gave me a good feeling, so after finishing the turn of the slalom, I gradually increased the pace and focused on driving while leaving a little room for bank angle, traction, accelerator opening, etc.
It won't do anything if it induces a big mistake, so we will definitely attack. . . It's a thorough run. .


Was the goal time 1 minute 18 seconds 874?
I was able to save 2 seconds and win the SB.
My goal was to win against the lightweight SS, but I was able to win the Dunlop Cup following Chubu Moto Gymkhana.
If you can win the SB with a 230kg big naked, you can be proud (laughs)
I will challenge the next JAPAN tournament with ZRX, so please support me.
https://zrx-drz.at.webry.info/202209/article_4.html