The long-awaited youngest child has finally arrived.
Vehicle KX112 + 12 inch specification for 12 inch challenge.
I bought a friend's spare machine, installed safety parts at Subaru Craft, and made it as a perfect public road specification.
Subaru Craft,, you are doing a really good job.
I had all the meters attached to such a compact vehicle, and it was finished beautifully.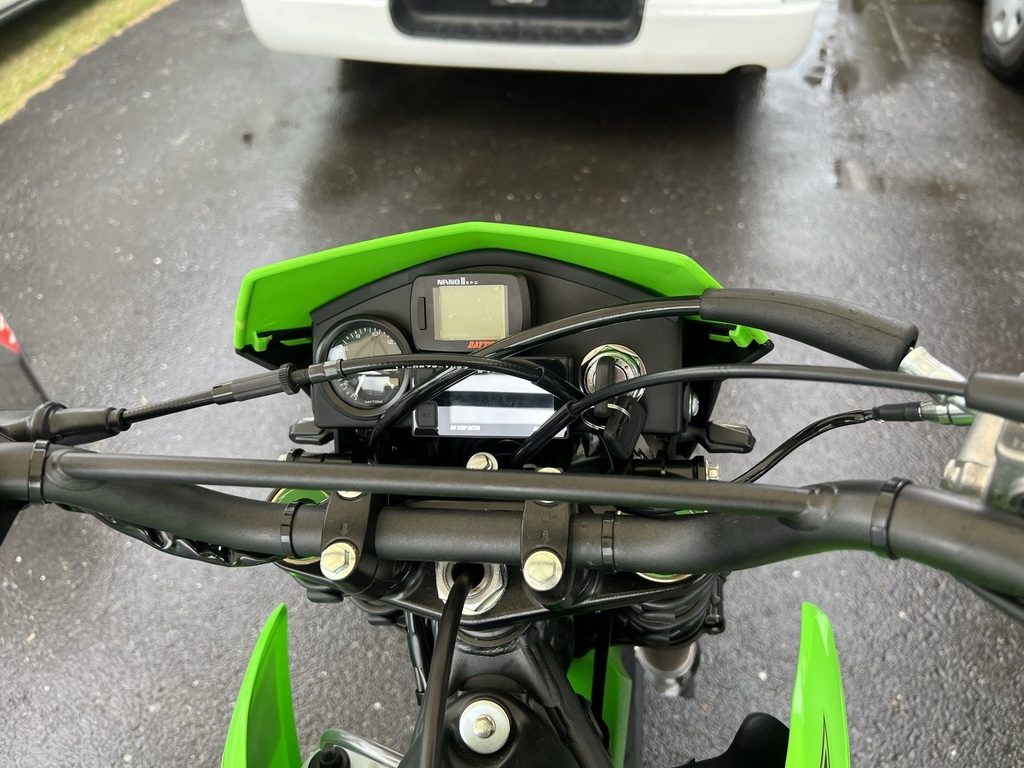 The changes in this vehicle are the 12-inch undercarriage, spring rate, and damping, and the engine has a reed valve change.
It seems that the flywheel weight is installed, and the rest is basically normal.
On the first day of receiving it, it suddenly rained Satkana training. But I run in to learn the character of this youngest child.
In particular, it is necessary to learn the characteristics of the engine, including the cab set.
Regarding the undercarriage, it is a lightweight vehicle, so there is a high degree of freedom, so there seems to be no need to make any major changes for now.
I dropped the vehicle height a little to match the gymkhana. It's still pretty high.
Regarding the cab set, I opened it many times over the course of the two days to make adjustments, but I'm still dissatisfied with the intermediate opening.
As it is, I don't know a little bit, so I would like to test various things after attaching the FMF chamber that I have already bought.
I gradually understood the direction of the final, and in the direction I envisioned at the beginning, I tried to make it short and use 2nd gear or more.
This is perfect! I enjoy running. . Gymkhana made me feel like I was running on a mountain pass.
103% in shakedown on the first day in terms of time
Day 2 is off to a great start with the 2nd fastest time.
It was a Dunlop TT93GP with a lot less tires, but I was very relieved that there was no behavior like falling even without using warmers.
Even in the cold rain, I started running without using warmers and realized the fun of a lightweight 12-inch machine.
The second day's run was dry, but the rear started to slide and there was a slight undershoot, so if I had more grip
I thought it would bend more and more.
I think I won't be able to ride a big bike if I keep riding like this, but it's fun, so I think I'll ride in 8:2 position.
12 inch everyone, please play~
https://ssbfactory.seesaa.net/article/499033413.html