By saying that the Okinawan bike shop Outban has become a distributor of the electric bike Energica
I also had the opportunity to test drive the Energica.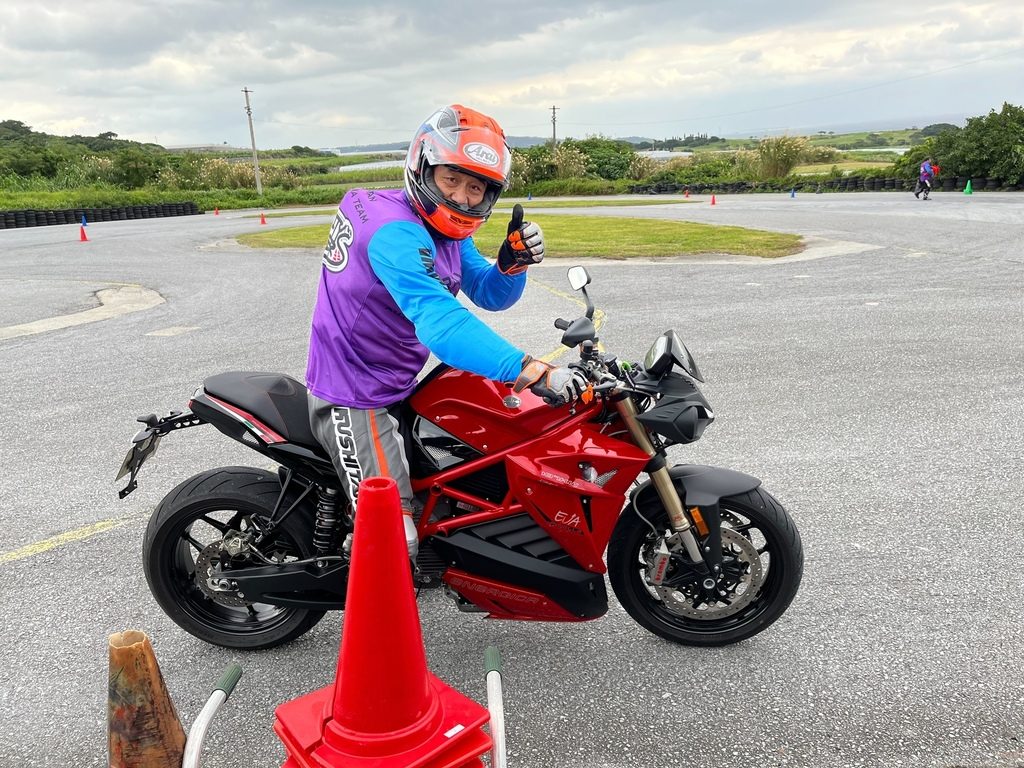 It was around 12 degrees, which is pretty cold for Okinawa, and there was a strong wind, so I started running very carefully.
There is no clutch and no engine noise, so it is clearly different from a vehicle with an internal combustion engine.
You can't release or adjust the power with the clutch, and you can't predict the rise of power from the sound of the engine.
Is it easy to ride an electric bike? Are you having fun? What a thought
However, such worries were soon betrayed.
When you twist the accelerator, it starts running smoothly.
Internal combustion engines do not have flat torque or power curves.
Compared to that, the motor is very flat and very linear for accelerator work. .
It is very easy to handle from slight opening to full opening. . There is no engine stall. .
Even when running slowly, stable power comes out and it accelerates as much as it opens. And when fully opened, it takes 2.6 seconds from 0 to 100 km/h. .
The cruising range is over 400 km, and it can be fully charged in 15 minutes with a quick charge.
And you can ride with a white license plate without vehicle inspection.
How about using it for gymkhana?
That's important, isn't it? .
Since there is no betrayal in the low speed range, you can do figure 8 and rotation with confidence.
However, regarding that, it may be a premise that you can properly control the accelerator.
"If you open it too much, it will accelerate accordingly."
And if you want acceleration, the power of 0-100km in 2.6 seconds will blow your fangs.
You can choose from 4 types of regenerative energy during deceleration, so you can match it to your preference.
With this machine that makes no noise and does not generate exhaust gas, you can enjoy gymkhana both in the city and indoors.
I've been thinking about it for a long time, but if the gymkhana becomes an electric motorcycle, the goodness of the gymkhana will be recognized.
It was a test drive that convinced me again.
https://ssbfactory.seesaa.net/article/495071569.html