ZRX1200R, I've been able to enjoy it very much. .
As a rider, I am very happy.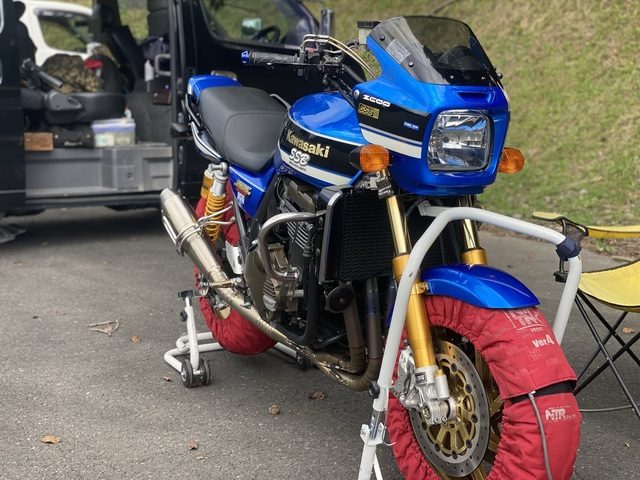 And running with Road Smart 4, which is a touring tire, raises the rider's skill. That's how I feel.
I also feel that the slide control is even more accurate.
Yesterday, I compared the times of the ZRX1200R with the Roadsmart 4 and the worn-out Diablo.
It turned out that there was a 3% difference in the time ratio.
Road smart 4 = 1 minute 41 seconds 3
Diablo = 1 minute 38 seconds 3
102.88% of top time in Diablo
I can imagine that the time ratio would be even better if there were only two attacks.
Even so, I think it can be said that the Road Smart 4 is a high-potential tire that does not look like a touring tire.
Moreover, after using it for 2 months, I feel that it has decreased by 7 to 8 parts, and the Dunlop mark on the side still remains.
I think that it is a reassuring tire for self-propelled gymkhana riders. .
If you can use this tire well, I think you will be an excellent rider.
For me, it was my immediate goal at the last JAGE Cup to finish on the podium in the SB class with touring tires! Now that that has been achieved, my next goal is to see how well I can compete with the heavyweight ZRX1200R in the Dunlop Cup against the current SS teams weighing 160kg. I've been wanting to try it.
So, it's going to be a real challenge, but I'm going to try putting Dunlop's new Q5 tires on the front and back.
I apologize for being indecisive, but I want my friends to see the ZRX1200 in action! I have a lot of requests, so I'm going to try my best.
Q5 What kind of tire is it?
https://zrx-drz.at.webry.info/202207/article_9.html