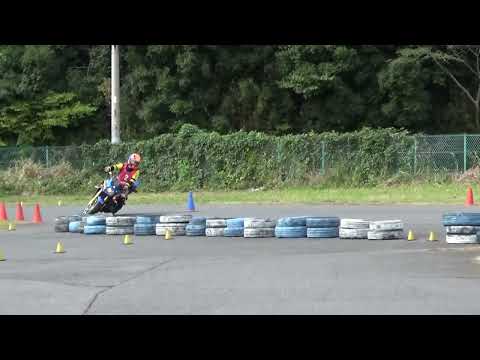 This weekend, I participated in the day before the Japan tournament and the tournament.
It was a ZRX that was around 4th Dunlop, so I ran a little bit in the training the day before, but now I regret that I should have worn Q5 and ran.
In the JAGE training, I ran with the Q4 front and rear Diablo, which were three years old, but after all, three years after putting in the heat, it didn't grip.
Well, I'm glad that I was able to run with everyone. .
It was the first time in 4 years that the Japan tournament was held. There were 205 entries from all over the country, and the weather was perfect until the end.
The progress is smooth, and I admire the efforts of the staff. . thank you~
In the 1st heat, the course was wide open, but Tomin's line was narrow at the start, so I couldn't continue to slide the rear, and the front started to float in the middle. .
If I could run a little wider, I could put it on the rear when entering, but the weight on the front was too big, and there were many places where the weight of the ZRX was unbearable. . It doesn't come bent

Even so, in the first heat, I was quite aggressive, but when I turned around from the start of the back rotation, the front was taken away at once and I fell down. The ZRX is always front-up, but I wonder if the rhythm was slightly different because the tires were different.
When it came to competing with the lightweight SS with the ZRX, I was asked to run at the very last minute, and now I regret that I should have run a little more in Q5, because a slight difference would lead to such a thing. We are here.
Unfortunately, I couldn't run until the end, and it affected the second heat. .
Let's attack in the same way in the second heat! With that in mind, I went into the second heat, but since I was over 60 and fell in the same way, I was just stupid, so I switched to running as hard as I could and ran as hard as I could.

Even though I thought the opening wasn't enough, it was a little difficult because the tire trajectory was slightly off. .
Even so, I managed to finish the race and finished 5th in the SB class.
There are only two races left for the Dunlop Cup, where ZRX1200R will challenge the SS. .
I will do my best at Dunlop the week after next so that I can have a good match.
https://zrx-drz.at.webry.info/202210/article_1.html