The Z900SE should finally be installed, although the parts have been installed and it is basically the final specification.
After all, it is natural, but the setting is not likely to end yet. "Vehicles with no one in them take a detour."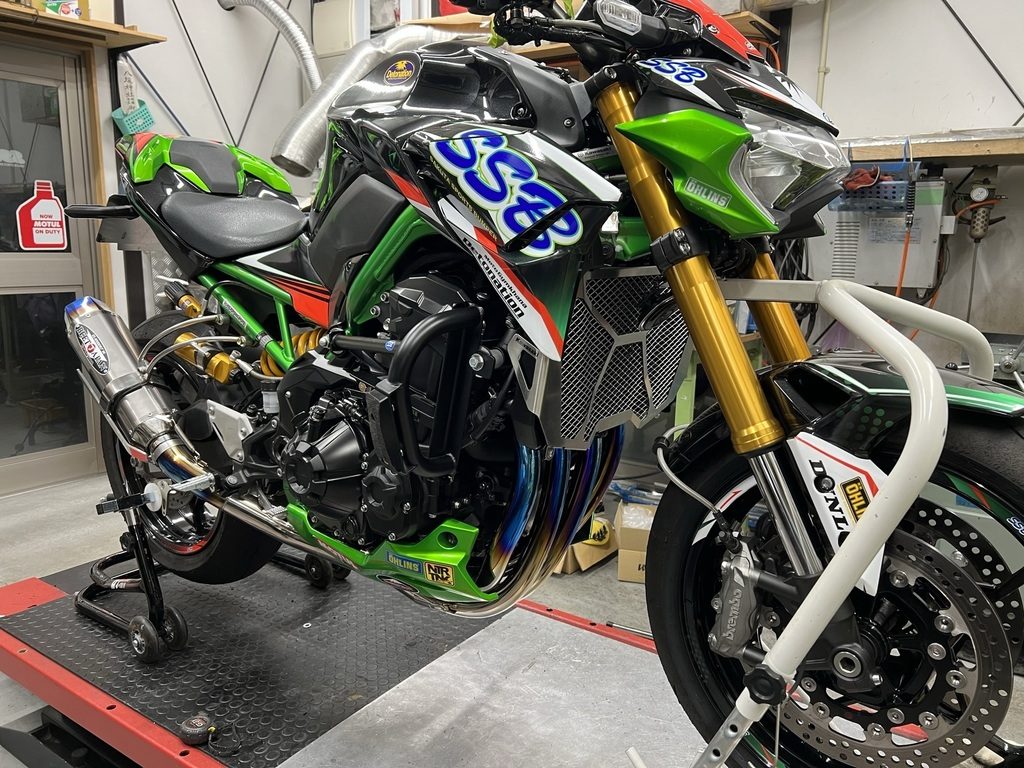 Is it an engine characteristic? It's more powerful than the rider feels, or it's going forward and the tires are slipping.
Even if I ran dry at the Krisp practice session, I was conscious of the rear tire slipping at full throttle. I couldn't run as hard as I could.
I couldn't get closer to the pylon than I thought. .
During the Dunlop Cup wet run, I was always conscious of rear slippage.
There may have been a problem with the tires, but even though the front was floating in the rain, the rear of the Z900SE was slipping all at once even when going straight.
this is? I thought, and decided to try swinging the final long.
How long than normal. . . . "Normal is 15/44"
Test 16/48 → 16/45. . Then I felt a little unsatisfactory and thought that the rear was a little far away, so in the end
Decided by 16/46. "Well, if you calculate the total reduction ratio, even the Z900SE normal has almost the same gear ratio as the
GSXS1000
9-cage short."
In this state, the wheelbase is longer than normal, so the wheelbase on the stand is about 1480mm.
However, this vehicle has the engine mounted in the rear. . . Or the front tire is far. .
And since the seat position is high, it seems better to lower the position of the axle.
As soon as it stabilized, I was able to put my body inside.
Final is longer than normal Wheelbase is 1480mm It doesn't seem to be a gymkhana machine at all.
It will be a while before this Z900SE + Sakuta combination shows its best performance.
Well, the Z900SE is fun, but my legal wife is the ZRX1200R, so I'm having an affair with peace of mind (laughs).
And we have prepared a fun machine that can be anything, so I would like to make a debut at some practice meeting.
"I have no plans to participate in JAGE-related competitions with this machine at the moment."
Next time is the KSR tournament this weekend, maybe Tohoku will also appear? And the Chubu Tournament is coming up for the holidays.
After the consecutive holidays, the JAGE Cup and the Dunlop Cup will continue, so if possible, I would like to have a good condition by then.
https://ssbfactory.seesaa.net/article/498801329.html