Yesterday I participated in the 2023 Dunlop Cup Round 1.
It was a race in the cold rain, but I was able to run with some peace of mind because the course was on the parking lot side.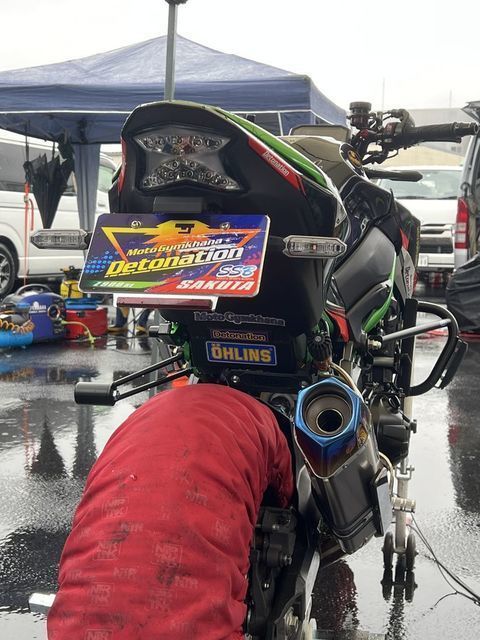 This is actually the first time I've ever ridden in the wet with this bike, so I wondered how it would perform. It was quite an unknown world.
For that reason, in the first heat, I felt like I was watching the situation, but even if the motorcycle was standing, the rear slipped and I could not keep the line.
I ran with road smart 4 tires, but the power and grip were not well balanced.
As I found out later, it seems that the tire pressure was raised a little too much.
In the second heat, I lowered the air pressure and ran using a system that seems to be the latest model called low power mode.
Increased tire grip! I thought, but the low power mode doesn't move forward at all and sinks. . .
I somehow managed to finish the first race in 4th place in the SB class. I think I did my best, personally.
Looking at the overall results, this tournament. It seemed that the rider wearing the Q5 had a better time.
I think it's the road conditions and various factors, but it's a complicated feeling around here.
If you don't have good grip, you can't attack, so I think the choice of tires had a big impact on the outcome.
However, I think the problem is the player who wore Q5. . There were a lot of people who entered the course without even entering the warm-up course and without doing the figure 8.
The slalom course has been run more than once by JAGE's announcement before. . The figure 8 runs in all three places! I think that was the rule.
It's a little embarrassing as a class A car that doesn't follow the driving rules.
Also, in a situation where Q5 is not available, some top players are running with
α13sp
.
How about a race in a situation where a stable supply is not possible?
If you can't supply a stable supply, you can remove it from the tires that can be used, or get rid of the Dunlop tie. . Isn't it bad if you don't think about it?
All regulations are for fairness and safety. It is certain that top players can become top players because they are greedy to win. However, it is a priority to protect the regulation firmly.
I want you to think about that area. .
https://ssbfactory.seesaa.net/article/498755236.html