I went to the Ehime Dunlop Cup on September 8th 2019.
As usual, we moved to Osaka on Saturday and arrived at Toyo Port in the early morning of Sunday with the Orange Ferry.
Until the early morning of the day, The Weather News showed an umbrella mark from noon so I was worried about sudden rain,  but the tournament turned out to be a one that I could enjoy without a break of rain.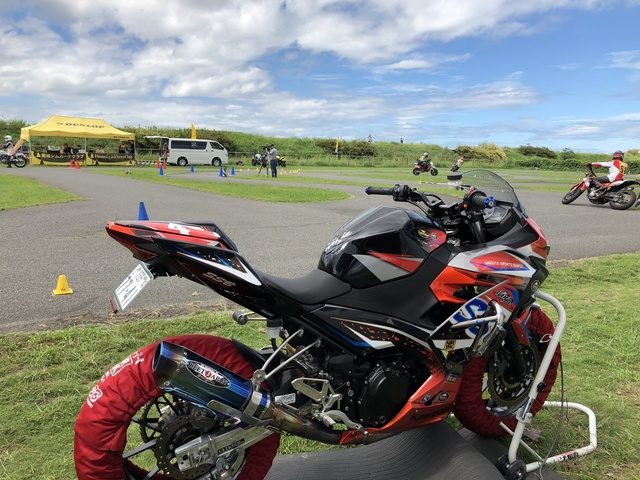 Before the tournament, I changed the clutch back to stock from a Sutur slipper clutch, and started the race without having much of a  trial run. On the first heat I felt a slight rhythm difference…
I don't know if that was the case, but on this first heat I fell down.
The second heat I ran it safe so I got used to the feeling, but as I see in the video, I'm getting used to this Ninja 400 and getting closer to a perfect run?
I think that it is proof that the precision of the control of the machine has been improved because the line where the tire passes can be traced with a full bank without big mistake.
The time was 1 minute 31 seconds 8 and the overall winning victory came out. Landed me in 1st place.
By returning the clutch, it became easier to run as I got used to the sense of direct imput.
I think it's a classic example that shows that it doesn't always get better if you change everything.
I would be happy if I could run even smoother in upcoming tournaments after this one…
Original in Japanese:
https://zrx-drz.at.webry.info/201909/article_2.html
Link to product in blog post.
What do you think? Feel free to leave me a comment bellow.