It was a week when I was worried about the weather, but on the day of the performance, the best environment was held in the blue sky from the morning.
Round 1 feels like a presentation of what came in the off-season, for better or for worse. ..
Is it in a category that I am not good at in terms of course? I felt like, but I ran as hard as I could.
The road surface of Tsukuba that runs for the first time in the suspension that was changed in the off-season. I felt that the grip was higher than I expected and the front tended to go in too much. There may be problems with the course layout, but I don't know until I actually run, it's a difficult place.


In the first heat, I concentrate on leaving time and run through. It was like that. I was able to carefully move the machine, which feels heavy, and return to 4th overall.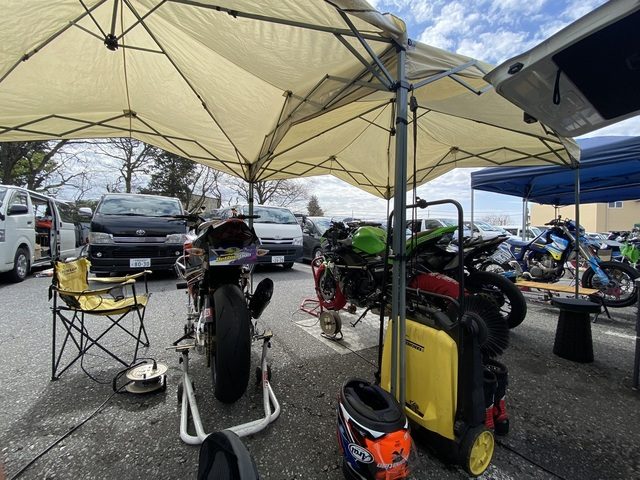 2nd heat
I felt very heavy in the first heat, so I changed the tire air a little and challenged in the second heat, but the rear tires did not sleep as expected. .. It seems that he has run like that, so he couldn't extend the time so much and ended the first race in 5th place overall.
The setting is something that you can't understand until you actually run the production, but I knew that the suspension set I aimed for in the off-season was in a direction that made it difficult to put the rear to sleep, but that made me feel like a disaster. ..
I would like to adjust that area for the second round.
Motorsport has strict regulations, and if you do not follow them, you will be disqualified immediately. ..
Gymkhana is like having no regulation, while fighting in such a harsh and harsh situation that if you dope in other sports you will be disqualified immediately. ..
If you win, you win, if you win, the government army, if you set the time, it's great. .. It's very sad that I'm completely inclined to such a situation.
The sad thing is that as long as I say that, I'm very disappointed that Gymkhana is seen below by people playing circuits and other sports.
However, there is no doubt that this is the current situation in Gymkhana, so I'd like you to run through your own feelings and justice and see and feel it. ..
Don't hate your favorite Gymkhana. .. .. I want to run with all my heart.
https://zrx-drz.at.webry.info/202203/article_8.html