After the first round of the Dunlop Cup, I measured the weight of the vehicle as it was.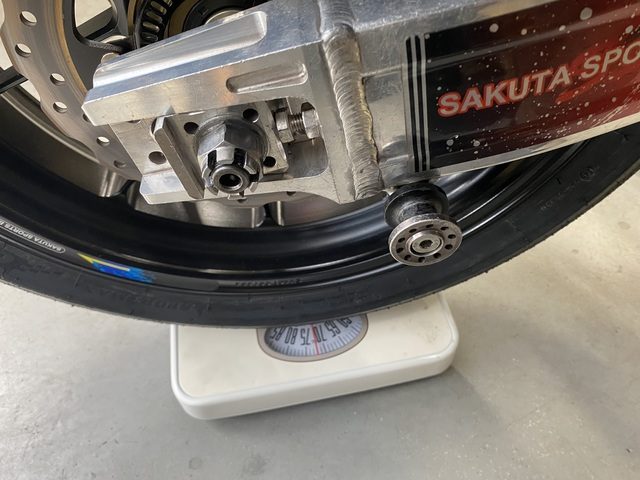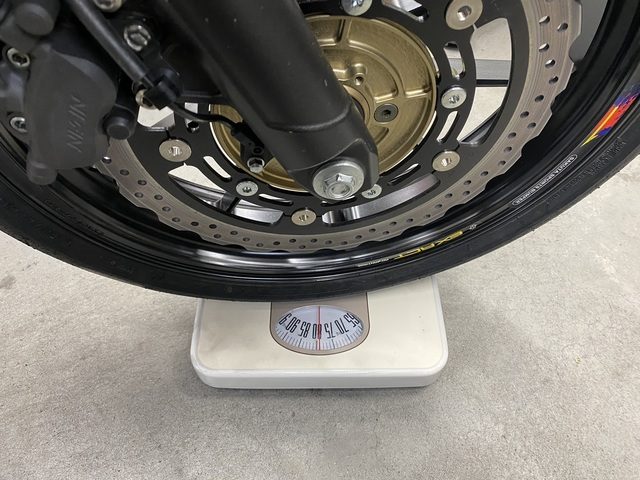 Front 79 kg Rear 72 kg Total 151 kg
The result was that.
The equipment weight of the catalog data is 167 kg "Gasoline capacity 14 L Engine oil 2.3 L Cooling water 1.3 L"
Maybe it contains about 3L of gasoline? The muffler and swing arm make it lighter, but the SSB is attached and the handlebars are heavier, so the weight is about this.
It's a very light vehicle for a commercial vehicle. .. That's excellent.
However, it is considerably heavier than other vehicles used in Gymkhana. ..
When asked about the vehicle weight of other top players, I heard that it is about 160 to 170 kg in the SB class and 100 kg to 130 kg in the general class, so it seems that the vehicle weight is closer to SB. ..
If the cowl is removed or the weight is reduced, it seems that the running weight can be reduced to about 140 kg.
If you drop that much, the turning performance will increase, and the acceleration power will increase, so I have a feeling that it will be considerably faster.
If you have an ant class for anything, it seems interesting to just scrape and find the time. ..
Well, I don't think my role is in such a place, so I'd like to run with the light on with the Ninja 400 known.
The picture of the current model of a general commercial car fighting against the 2st and racer motard is also interesting. ..
I will do my best to boil down the ninja and aim for victory.
https://zrx-drz.at.webry.info/202203/article_9.html