I always get up at 4 o'clock and leave at 4:30. ..
I wanted to say that, but I'm feeling sick from the morning. .. Doesn't it make you feel uncomfortable rather than waking up?
By the way, I've had a little pain in my stomach since I was watching the Tsugaru shamisen concert yesterday.
While I was thinking, my stomach hurts, and I'm hungry.
Even though I woke up at 4 o'clock, I came to Asamushi, but what a mess ~~~~ ?
I go to the bathroom over and over again. ..
Still, get ready and go to the bike. .. .. Load your luggage. .. .. While doing so, the toilet again. .. I don't like it anymore ~~
Is it okay to leave? Is it okay to go to the Shimokita Peninsula? Is it the best choice to go to the next accommodation? ?? I was at a loss. ..
Moreover, the outside is a single digit temperature with a light rain. ..
Let's start with guts. .. I started with that, but I'm not hungry. .. ..
If you have a convenience store, let's enter immediately. .. I bought an intestinal medicine and water at a convenience store. .. Drink for the time being and leave again.
I've calmed down a little, so I'm heading to Mutsu City.
Did you say that the weather forecast was cloudy and then sunny? Why is it raining? And it's cold. ..
The NC750 is the strongest in the helmet, even though it's slamming.
I just run while thinking about it.
The Shimokita Peninsula is planned to make one round clockwise. .. I will run through National Highway 338.
By the time we arrived in Kawauchi-cho, the road surface was dry and sunny.
In such a situation, I completely forgot that I was sick, and I'm glad I came. ..
And the pass route starting from Wakinosawa to the Saimura area. .. This was amazing!
It's a two-lane road and it's wide, but it doesn't pass or catch up with anyone for almost an hour. ..
It's a solo two, so you can run endlessly at your own pace, but no one can help you if anything happens.
We will continue to run safely and comfortably by mobilizing all the techniques in the first corner that is approaching one after another.
I'm glad I came to Gymkhana at such a time.
There is Hotokegaura Observatory in the middle of this pass, so take a break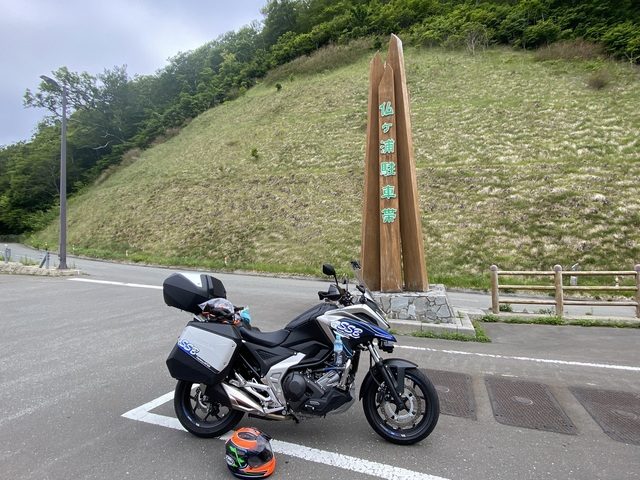 I think the scenery you can see from here is sometimes seen on TV.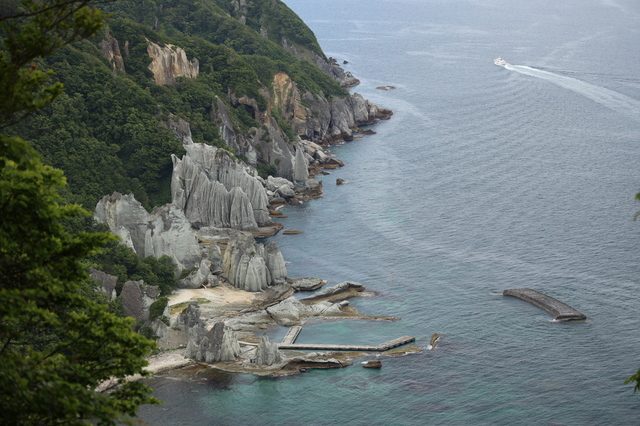 I once went by boat, so I remembered that I went down to the pier over there.
Now, let's aim for Oma next. ..
As Oma approaches, it begins to rain and the temperature drops further.
How many times. .. "I found out later, but it seems that it was less than 5 degrees."
Pashari in front of the annual tuna statue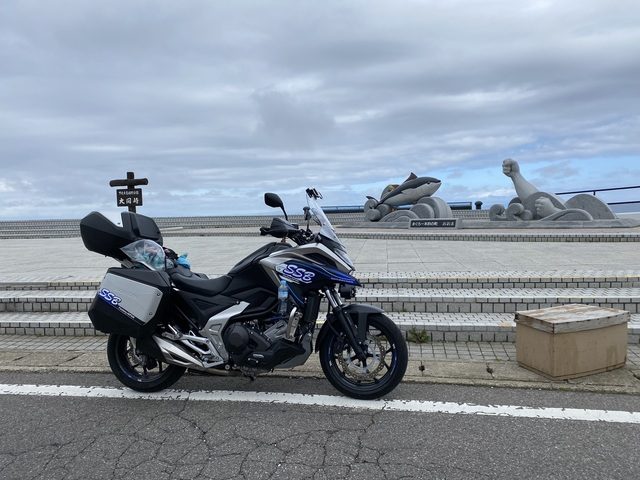 You can see Hokkaido in the distance. ..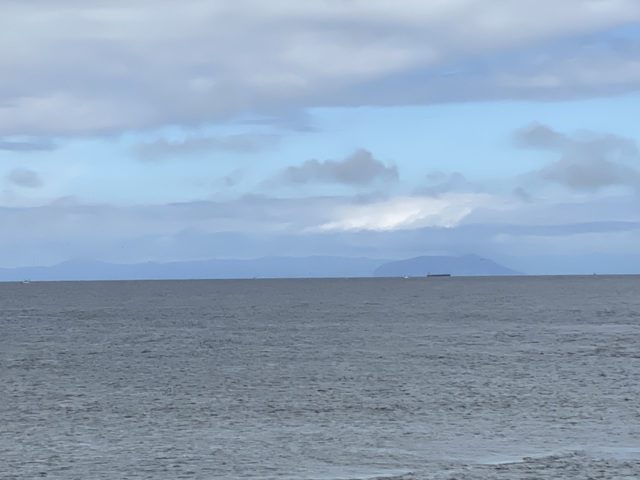 There were many cafeterias for tourists, but as a person who had been down to the morning, I didn't feel like eating creatures, so I decided to eat rice balls at a convenience store. .. I'm lonely ~~~ ?
The next destination is Shiriyazaki. I'm going to see the Kandachime that live here. ..
Originally, I was planning to go through Osorezan on the way, but it's physically dangerous!
I gave up this time because it said that the mountain was completely raining. "Adults"
To protect the Kandachime, you have to cross the gate to enter the habitat.
After crossing the gate, I first arrived at Shiriyazaki Lighthouse.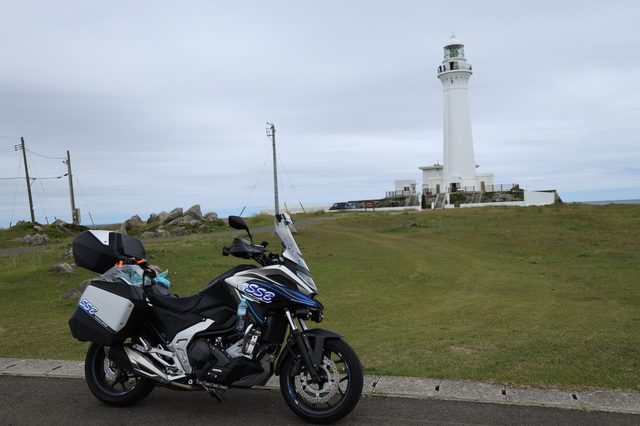 Kandachime than that! !! It's a horse with short legs, but it has a unique atmosphere.
If you ask the locals, they will be grazing over there! I went there, but I can see it! I know you are there. .. But it's too far away to know if it's a horse or a cow. ..
Well, I gave up because it can't be helped this time.
From here, I'm heading to Kuji City, where I'm staying today, but I have to buy souvenirs at Hachinohe on the way, so I'll hurry. ..
Well, even if you say hurry, the route here is long. It's just 120km. .. ..
I felt it for a long time ~
I'm getting tired and want to drink coffee ~~ I stopped by FamilyMart! !!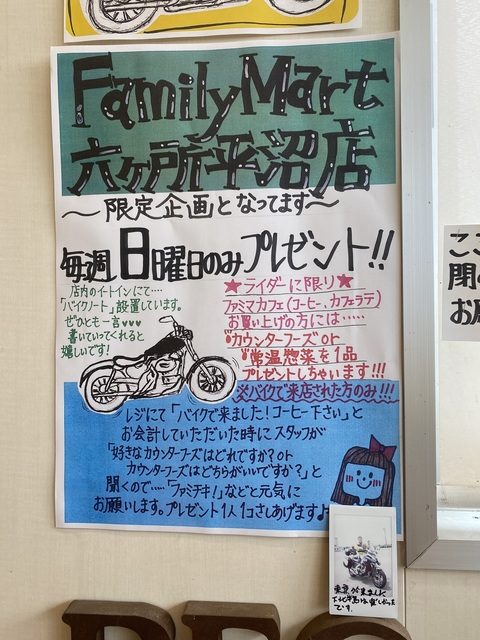 What a Sunday only, I came by motorcycle, please coffee ", and I was offering a service that you can get one item in the counter case. It was a nice service because the owner liked motorcycles. .. I got a croquette.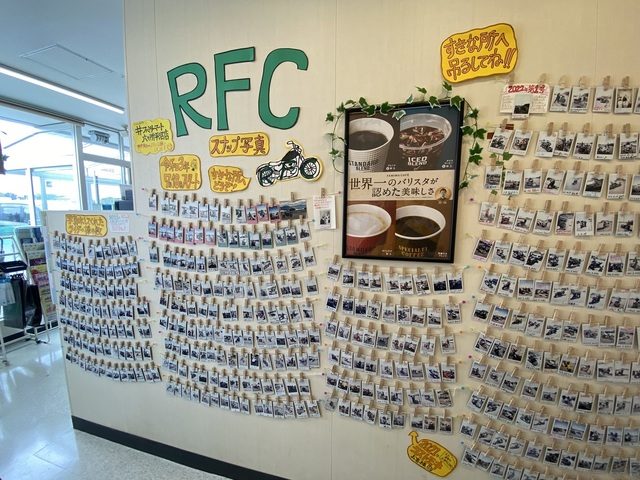 I asked them to take pictures, wrote comments, and became a member of many of these pictures. ..
When I got to Hachinohe, it became quite warm, so I took off the kappa and was able to run for a while with a light feeling. ..
I arrived at Kuji's inn at 3 o'clock. .. I got ready for the next day, finished my work, and got tired of it, so I went to bed early and the long day ended.
Oh yeah, I've come this far and I'm sick, so I can't eat any living things. .. I'm very lonely. .. The second day is over.
https://zrx-drz.at.webry.info/202206/article_7.html