The Japanese 2023 Moto Gymkhana series is about to begin.
I can't wait to see what kind of season it will be.
This year's main bike is the Kawasaki Z900SE 2022 model.
The concept of this time is to create a machine that considers the significance of the SB class for SB vehicles! is.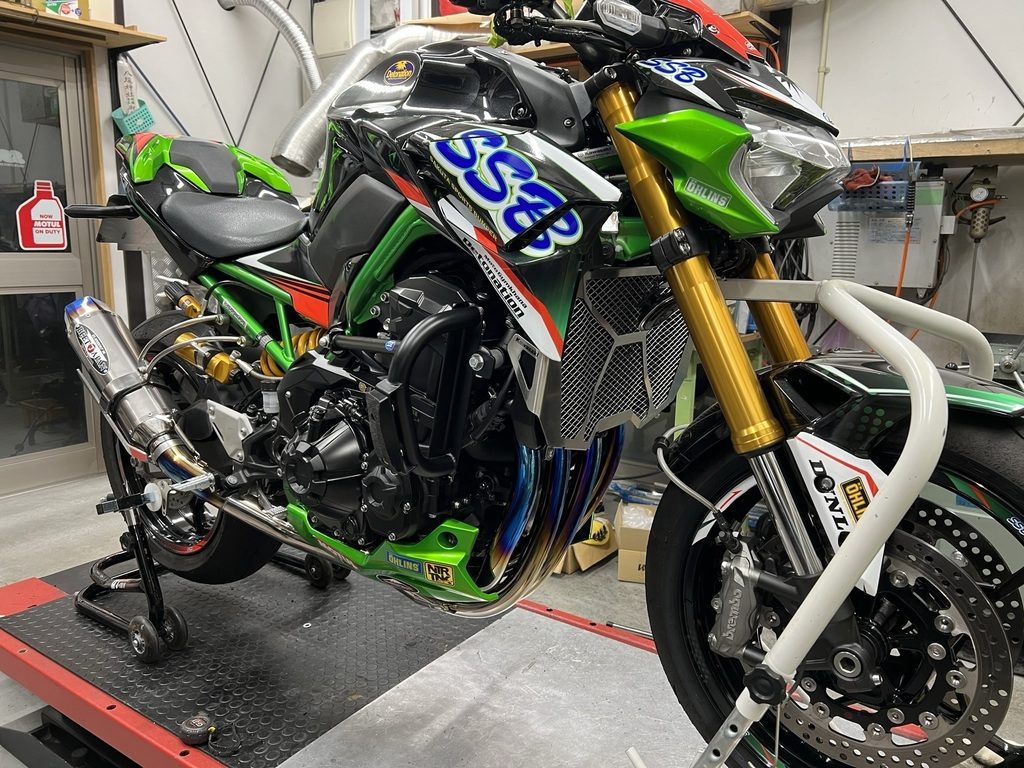 The change is "all contents"
① Front and rear suspension "Ohlins"
② BEET's full exhaust "It's JMCA specification" Just in time~
③ Braking is only for the front master Gail speed "Pat only F = Wessler"
④ I bought a Marchesini wheel, but when it's wet, it's a normal wheel.
⑤ECU rewrite
⑥Handle "Kawasaki genuine handle"
⑦ Tank processing "Because the handle will hit"
⑧ Fenderless kit
⑨ Step "I raised the step holder as it is"
⑩ Sheet processing "Slightly lower"
⑪Final change "Normal ratio 1-chome short"
⑫Installation of SSB
⑬Installation of rear slider
⑭ Graphics
⑮ Genuine radiator cover installed
⑯Installation of genuine engine cover guard
⑰ Tires are Q5 120/70ZR17 180/60ZR17 and Road Smart 4 120/70ZR17 180/55ZR17 when wet
will be used.
This is the Z900SE with this season's specs. A specification that allows you to participate in self-propelled without removing the helmet holder or horn. .
It is designed to pass the vehicle inspection properly.
Vehicle weight when running 202, 6 kg
How much can you compete with gymkhana special machines that have been thoroughly lightened?
It is a challenge with a machine that is well-balanced rather than lightweight, snuggling up with beginners and self-runners.
My goal is to get on the podium, but I want to enjoy the race without forgetting to hold my head high.
https://ssbfactory.seesaa.net/article/498698142.html