I participated in the final round of the Dunlop Cup held on October 22nd.
It was a sunny day and the temperature was high for this time of year.
The participating vehicle this time is KX112SM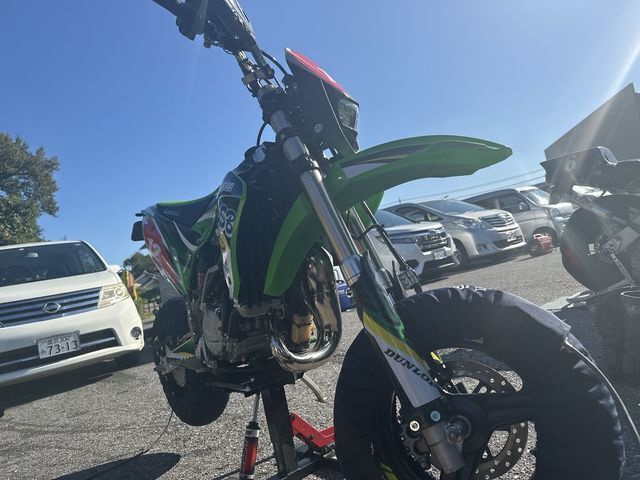 My understanding of the machine has progressed, and so has the setup.
However, in the official Kanto race there are tire restrictions, so I have to wear the TT93GP, which is one step inferior in performance.
How can I make the most of these tires and get better times? That's what I'm saying.
In that regard, I have one thing to think about since the KX + TT93GP has more grip than the
ZRX1200
with high grip.
It comes down to how to move forward without waste, and how to bend efficiently.
my! ! The KX112 is super short and starts in 2nd gear and uses the gear above it, but the range of protection in 2nd gear is very narrow.
On this course as well, I went into 4th gear at the first slalom, and went up to 5th gear at the return slalom.
"In the second heat, I pulled it all the way to 4th gear."
Even in other places, I always go into 3rd gear, so it's so busy that I have to downshift every time I turn.
If you drop the engine speed, the engine will not accelerate, so you need to choose the appropriate gear.
This alone will make the same gymkhana even more difficult and give you more to think about.
For example, even during a slalom, I would go up 2 gears, go down 2 gears at the turn, and then go up 3 gears during the slalom. . Looks like fun, right?
That's right, it's more about the fun of controlling the machine than the ranking.
It's like driving at full throttle on a mountain pass or circuit for the first time, the ultimate in machine control. .
It's a good place to be able to get drunk and run. (lol)
In the first heat, due to some mistakes by other riders, I was able to finish in 3rd place overall.
You have no choice but to take the plunge in the second heat! I think that's why I was able to enjoy running.
4 main rivers? When one of the pylons turned around in the Adachi section, the front part ran away so much that I thought I was going to fall, and I lost a little bit.
Without that, I wonder if the time could have been shortened by about 0.3 seconds?
Well, it still didn't change the difference between me and the top, but I think I was able to use up most of the TT93 GP and have a good run this time. That's what I think.
We were able to finish the final race in 4th place in the A class "overall".
I'm glad the results came out.
https://ssbfactory.seesaa.net/article/501213943.html