We had a weekday practice yesterday, so as per the previous article
We tested the tires of Dunlop TT93GP "as used in JAPAN" and CST's SM-SRR "used twice in competitions and twice in practice sessions".
First of all, since I was still at JAPAN, I rode the TT93SP all morning.
I don't slip so much that I can't run at all, but when I try my best, I feel uneasy.
Turnability is neither good nor bad. . .
Best time in the morning was 1 minute 8 seconds 285.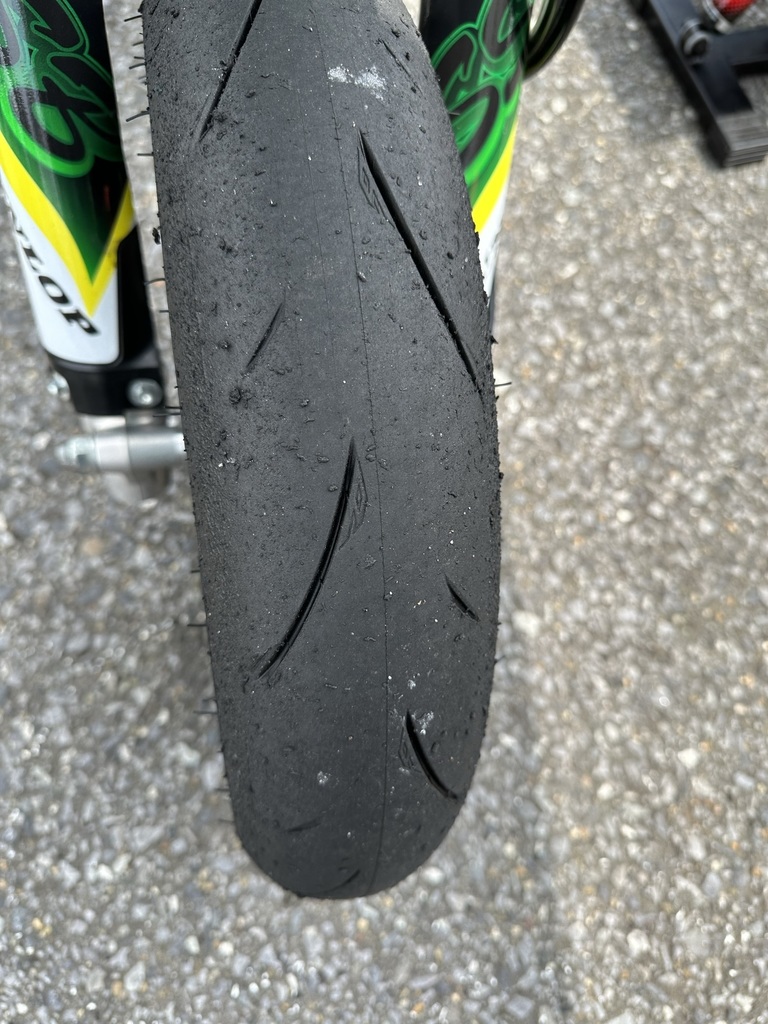 In the afternoon, I changed to CST and my first time was 1 minute 7.572 seconds.
I had just eaten lunch, so I expected my basic time to drop by about 1 second. .
The best after that was 1 minute 6.444 seconds.
Updated for about 2 seconds. . Comparing the time ratios, it means that the time difference was 2.77%.
To put it bluntly, the grip level and turning ability were on a completely different level.
When riding a 17-inch bike, it's about the same difference as running a Q5 versus a Road Smart 4.
"Actually, there was a 2-3% difference between Q5 and Roadsmart 4."
The way the tire surface melts is also similar to that of the Road Smart 4, whereas the CST has a high grip.
I think it can't be helped since the tires were made 13 years ago, but compared to recent tires that have rapidly evolved.
I think you can judge that the TT93GP is an outdated tire.
Regarding CST's SM-SRR time, considering that in a previous SM-SRR test, there was a difference of 1 second on a 1-minute course between tires that were worn out and new ones.
It is thought that the time difference with the actual TT93GP will be even wider.
I've been told for some time that I'd rather not go out than wear TT93GP, and that it would be tough to compete with the ever-evolving 17-inch models.
This test proves that opinion was not wrong. .
Now, is it okay for Dunlop to stay as is?
Wouldn't it be better to develop a 12-inch radial without giving in?
It looks like the tournament in Kanto, where Dunlop is tied, will be a tough battle for a while. .
https://ssbfactory.seesaa.net/article/501074245.html