It's something I've written all the time, and it's a duplicate. ..
Gymkhana now costs a lot of money. ..
Tires that cost tens of thousands of yen per set will be reduced in a blink of an eye, and the performance will decline each time heat is applied. ..
It's a tire for circuits, so I think it can't be helped because it's a tire that ends in one race.
It's fun to use such tires like hot water to compete. ..
I think it's an unusual situation for ordinary people to think about.
In order for various people to enjoy the charm of Gymkhana more and more, I think that it is necessary to develop Gymkhana, which costs less.
Those who have been immersed in Gymkhana may not understand it anymore,
It is a machine that can run on public roads and participates with ordinary tires. .. .. Gymkhana improves your skills and makes riding a bike more enjoyable and safer. .. The bike life is enriched. .. That's the good thing about Gymkhana, and I think it's a charm that Gymkhana doesn't have in other competitions.
I know that race-like gymkhana is fun, but I'm not convinced that it's too unfair to follow the regulations.
Is it possible that promotion criteria are set for ridiculous vehicles? ?? ?? I think. ..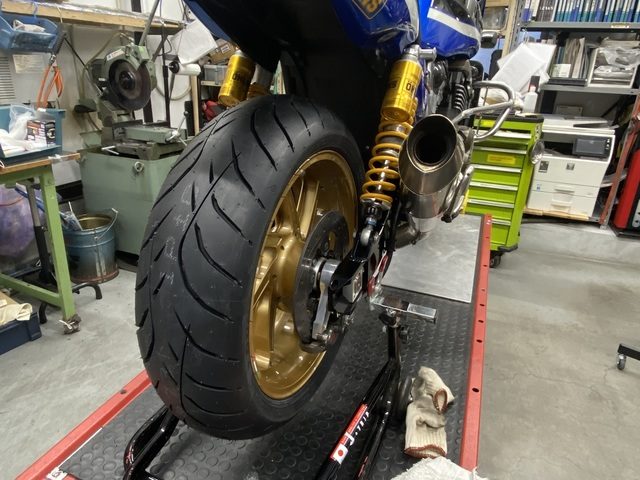 Well, I was disgusted with such a situation and decided to take a step back from the battle for the top and wear touring tires on the ZRX1200, but once I decided, the feeling of liberation seems to make Gymkhana even more fun. It has become.
There is no time, but the pleasure of delicately controlling the slipping tires. .. It makes me realize the lack of my technique and motivates me to further improve my technique. Feel free to run anytime. ..
You will not have to worry about putting on a stand and putting on a warmer, and the number of tires will not decrease at all. I feel like.
As much as I have time to spare, I have more time to keep an eye on things such as running people.
You can now teach and see the machine.
The office teahouse cup will be held this weekend, but it will run on ZRX + Road Smart 4.
In the next race, the CB750 may be called a touring tire. ..
The beginning of a new Gymkhana life. I'm excited now. ..
I will do my best to make this seem like a good decision.
https://zrx-drz.at.webry.info/202206/article_10.html