I can run the ZRX1200 in the dry for the first time in a long time! !! I participated in the office teahouse cup while being uplifted with the feeling of saying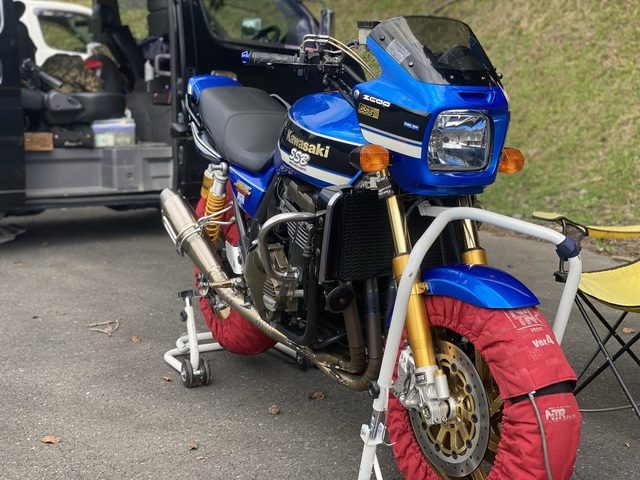 It was raining in the morning, but the road surface was dry. .. I think I can run comfortably.
I walked the course thinking that this course is a little difficult for a wide and heavy machine because it is difficult to approach and there are many parts that pass through narrow places.
Rather than pursuing time, I thought it would be enough for everyone who participated in the ZRX to enjoy the charm of Big Bike Gymkhana, so I feel calm ( smile)
The first heat was a dry run on the ZRX after a long absence, so I tried running according to the course assuming that the braking point would go wrong due to acceleration and weight.
As always, I will do my best in the second heat.
It was 2014, so it's been seven years ago. ..
Since I haven't done much Gymkhana since then, it was a little difficult to attack and run perfectly, but I was able to finish with satisfaction.
By the way, the top ratio is in the 103% range. .. Tsujiya-san's 1.5 seconds have fallen, so I think it was a satisfying run considering the current situation.
If I can participate in the next office teahouse, I would like to run on the Z250SL. .. .. Driving on both extreme machines seems to be fun.
https://zrx-drz.at.webry.info/202109/article_5.html