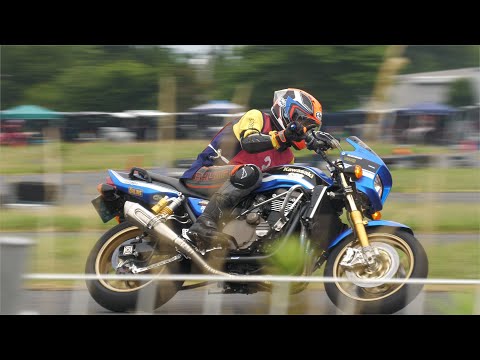 I don't think I ever had the talent to ride a bike.
However, I love motorcycles more than anyone else, I love riding, and I'm about to turn 60 now.
When I was around 20 years old, I was running on a mountain pass, and I thought I was good at it. .
However, in my mid-twenties, I realized that I was not good at it.
After that, I started going to HMS and learned the joy of riding a motorcycle on a closed course, and in my late twenties I met Gymkhana.
In the days of the gymkhana "Kawasaki Gymkhana" at that time, it was natural to run on a big bike, and even if you ran fast on a small bike, no one would appreciate it. I couldn't get up.
More than 30 years have already passed since Dunlop Gymkhana started.
I wonder if I was able to continue for a long time because I didn't have any talent. I think, but I've been able to consistently come, I want to get better!
Only one. . That's why I didn't choose a bike that I thought would be fast.
The basic is a big bike. . . However, I knew that it would be difficult to make a small bike, or a bike with no power, run fast, so I took on the challenge of such a bike.
I also rode a motard, and I think that I have acquired the skills I have now by operating various motorcycles.
But I think it's a big bike that makes me think that I'm doing a cool gymkhana when I watch my videos.
"Properly heavy and punchy bike"

Even if you don't have talent, if you continue for a long time, you will be able to control delicately and boldly.
It's a good tire, but I've become able to run touring tires delicately on big bikes. . I'm happy because I can see it.
However, my physical ability is not high, so I can't do flashy riding.
Now that I am 60 years old, so that I don't have any regrets in my gymkhana life,
I think it would be nice if I could work a little harder and go to the Big Bike Gymkhana.
https://zrx-drz.at.webry.info/202207/article_6.html