December 30 I had to clean up, but I also want to run.
I also want dried fish from Ogiso … Looking at the weather forecast, it's a little warm for 30 days! !! So I decided to go to Izu 1 lap touring.
The sunrise is scheduled for about 6:55, but the departure is at 4:50. .. .. It's still very cold in total darkness.
The temperature in Baigo, Ome City is minus 2 degrees Celsius. .. .. Hmmm it's cold.
It is a departure with heavy equipment and a toe warmer.
Now, what is worrisome here is the road surface and tires. .. It's not raining around here, so I don't think the road surface will freeze, but be careful of things like on the bridge. ..
And what kind of performance does Dunlop Road Smart 4 perform at negative temperatures? I'm very anxious.
First of all, it feels familiar to the movement. .. that? You can start running normally. ..
Clear the left turn at an intersection that does not run 1 km without difficulty. .. I can run surprisingly normally.
From the Hinode interchange, take the Ken-O Expressway to the Chigasaki Kaigan exit.
At high speeds, the NC750X is windproof, so it's easier than a normal bike, but I'm the only idiot who runs at high speeds at negative temperatures.
When I was thinking, he said that he would be overtaken by 5 cars by Kayagasaki. .. There are many stupid people ~
From Seisho Bypass, go through Odawara and continue on the old road with good rhythm, aiming for Atami.
When I arrived at Atami, it was just sunrise.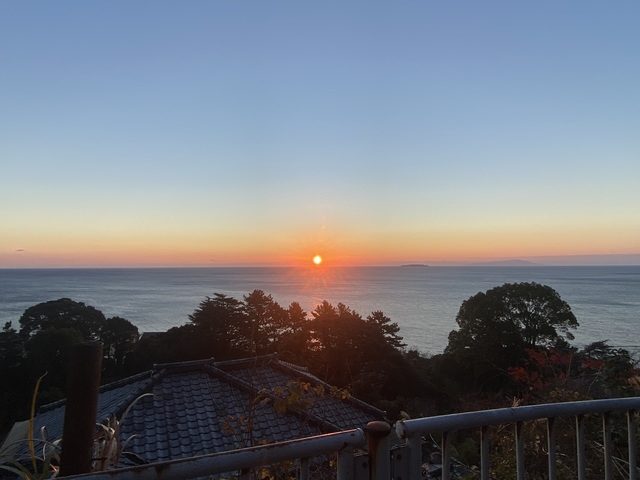 I feel relieved when the sun goes up. ..
Today, PYLON from Shimoda will be with us, so we will meet at Seven in Ito.
I will drive behind the car to Ito. The DCT at such times is really the strongest. ..
Running behind the car is also less stressful.
After merging with Pylon, we will head to Ogiso while using the old road.
Ogiso is a very tasty dried fish, and my wife is so delicious that she says, "Come touring to buy Ogiso's dried fish!"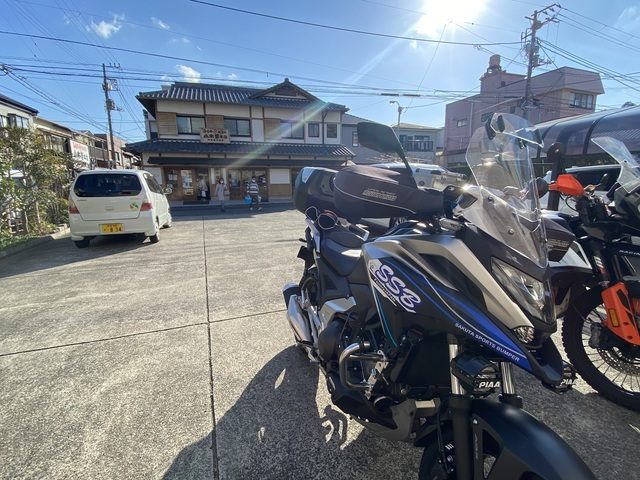 After Ogiso, we will cross Irozaki and aim for Cape Aiai all the time.
However, this time Nishiizu is a terrible storm! The bike I put on it is about to collapse. ..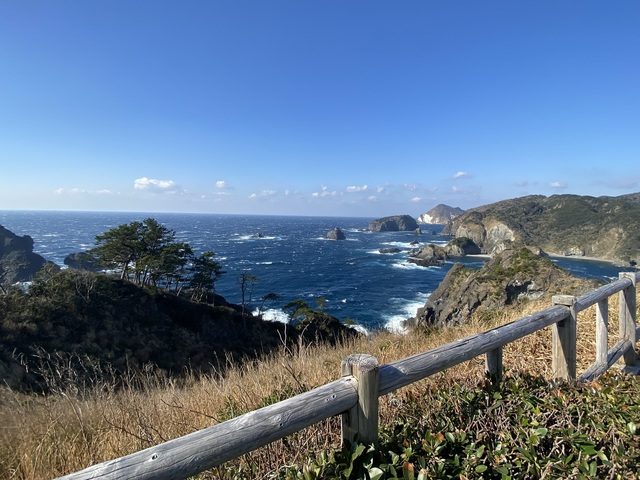 This is dangerous, so I decided to run in the mountains, so I will aim for Matsuzaki using Jaishi Pass for the first time in a while.
Why don't you run this small pass here using the DCT sports mode? I was interested in it, so I tried using the sports mode.
The downshift when entering a corner will be dropped at a good timing so that you do not have to do it yourself anymore.
It's like an F1 car! It will shift down in a blink of an eye.
Since it is a specification that pulls up to the high rev range, you can shift up and accelerate by yourself.
In standard mode, I did the downshift myself and left the upshift to the machine, so the usage was reversed.
Sports mode is quite exciting and fun mode ~
It seems that the pace will increase considerably if you use it seriously, so it feels like you should suppress it at the discretion of an adult.
Say goodbye to Pylon at Seven in Kawazu.
From here, I was planning to go through Amagi, pass through the Izu Chuodo Expressway, and return to the Tomei Expressway, but the traffic jam started from the 2nd Tomei Expressway.
I hate traffic jams, so be prepared for the cold and head for the Chuo Expressway through the Fuji Five Lakes Road.
How many times was it around Lake Yamanaka, which was getting cold all at once? The sun is still shining, so I think it's just barely safe.
After all, it seems that the area around the small Buddha is crowded, so I chose the Gokaichi route at the Kobu tunnel. ..
The road surface of this route, where the sun is starting to set, is black and full of dangerous atmosphere. .. ..
However, since there are really few cars, it has become a fast track that can run with good rhythm.
Even if you run at a reasonable pace, Road Smart 4 is okay! I will tell you.
It bends efficiently even if you don't lie down too much, and the feeling of ground contact is not lost. ..
I managed to get home safely. .. The mileage is about 500km, but thanks to the DCT and the Road Smart 4, which allows me to run with peace of mind, I was able to return home without extreme fatigue.
It seems that the tires will not decrease so much, so don't do it! Dunlop! No … I feel like I can do it, and the tires that will come out in this flow. .. In particular, I hope that GP tires will be very good.
https://zrx-drz.at.webry.info/202112/article_8.html